OP Open Process: Creators & Crypto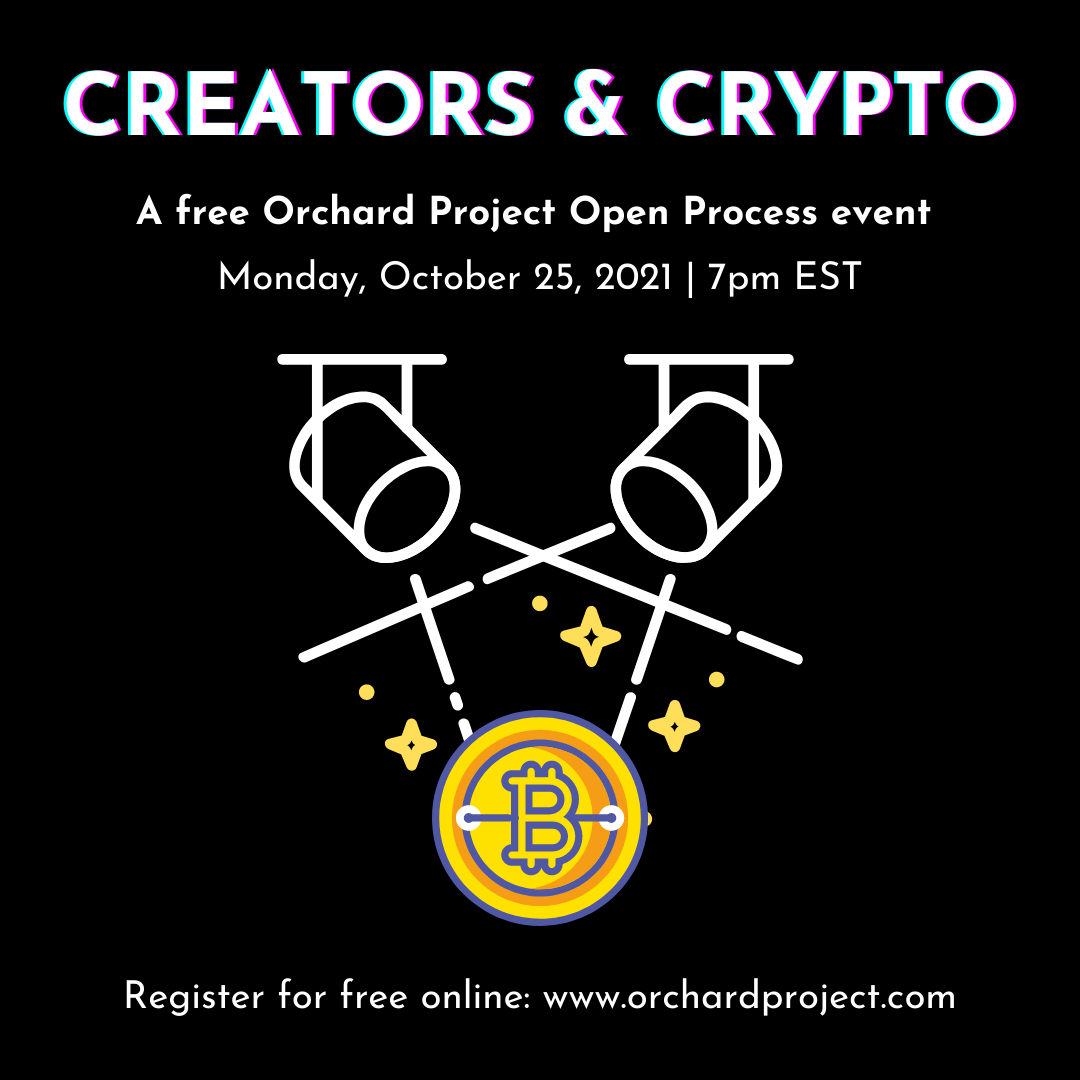 The Orchard Project is pleased to announce its next free Open Process event, "Creators & Crypto" on October 25th at 7pm EST. 
Join us as we discuss the potential of cryptocurrency to help creators build community through their work and tap into new monetization opportunities. We know that discussions about cryptocurrency can be daunting; this will be a casual, open conversation exploring this topic from various perspectives, with the goal of providing working artists with an understanding of how they might be able harness this new technology to their advantage, if they so choose. 
Featuring Stephanie Pereira Rally (rally.io) and artist/writer Sarah Zucker, interviewed by OP Artistic Director Ari Edelson
Stephanie Pereira is VP of Creator Success at Rally and a community engagement expert with more than 15 years of experience working at the intersection of arts, tech and business. Before joining Rally in May 2021, Stephanie served as Director of New Museum's NEW INC. There, she co-founded the museum-led incubator's accelerator and production studio, ONX Studio. Prior to that, she was a senior leader at Kickstarter where she worked for over six years, first as the inaugural Director of Arts, and ultimately as Director of Creator Engagement where she oversaw strategic growth and management of a global community of over 100K people. 
Sarah Zucker is an artist + writer based in Los Angeles. Her Art merges the gorgeous and grotesque through humor, psychedelia, mysticism, and the interplay of cutting edge + obsolete technologies. She works across mediums, specializing in mixing digital and analog video techniques and the use of VHS. Her GIF art has been viewed over 6.7 billion times on Giphy. She has been involved in Crypto Art since early 2019, tokenizing single and limited editions of her screen-based artwork on the blockchain. Her NFTs – digital art editions – can currently be found on SuperRare, NiftyGateway, Foundation, KnownOrigin, Hic Et Nunc, and Rarible. In June 2021, her work was part of Natively Digital, the first curated NFT sale at Sotheby's, and CryptOGs, the first curated NFT sale at Bonhams in conjunction with SuperRare.
Have a question you want addressed? Submit it anonymously here (http://shorturl.at/kzDOQ)!
When
October 25th, 2021 7:00 PM through 9:00 PM