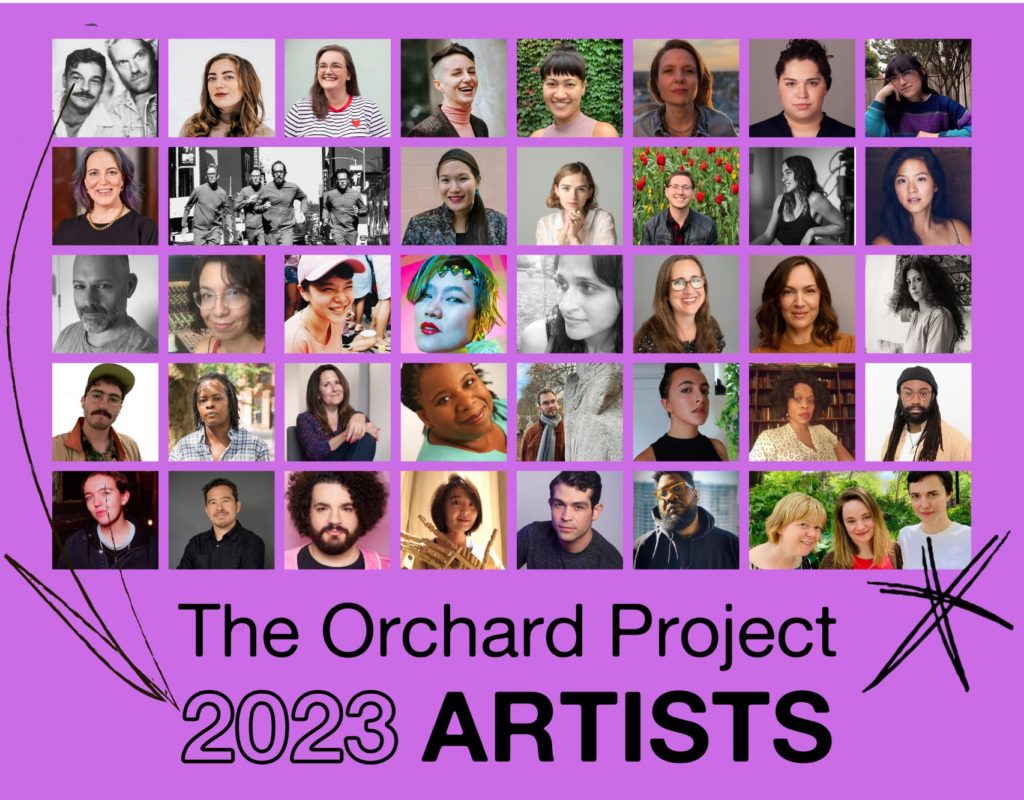 THE ORCHARD PROJECT ANNOUNCES THE ARTISTS SELECTED TO PARTICIPATE IN ITS 2023 SUMMER LAB PROGRAMS
The Orchard Project to Support 40 Performance, Television, and Audio Projects in its Four Summer Lab Programs
2023 Marks a Full Return to In-Person Performance Residencies in Saratoga Springs, and Hybrid Episodic, Audio, and Greenhouse Lab Programs
May 25, 2023 — The Orchard Project today announced the artists and companies selected to participate in its 2023 Lab programs. The Orchard Project selected 40 projects or artistic teams from a competitive group of more than 1,000 applicants to participate in this year's programs. This year will bring a full return to in-person programs for the Performance Lab in Saratoga Springs. The Orchard Project's Labs supporting artists creating work for audio and TV will be hybrid, split between virtual workshops and programming in New York City and Los Angeles, allowing the Orchard Project to accelerate the work of innovative playwrights, screenwriters, and theater companies from a breadth of geographic locales. The Orchard Project is also announcing new participants in its annual Greenhouse program, supporting year-round development by a group of multidisciplinary artists in New York City.
"This year, we're thrilled to be supporting the development of 40 projects. Each of the artists and companies joining us represents the extraordinary talent and promise in the contemporary dramatic arena. The impact of The Orchard Project's unwavering support is felt across the cultural landscape. Our projects and alumni are everywhere — whether you're in a theatre, tuned into your favorite TV channel, or listening to your favorite podcast. We can't wait for this year's artists to build on this exciting tradition before they share their stories with the world. We're proud to contribute to the unfolding story of the next generation of dramatic excellence."
– Ari Edelson, Artistic Director
The Orchard Project will host four Summer Labs, which start in June 2023:
Performance Lab (theatre)

Episodic Lab (television)

Audio Lab (audio)

Greenhouse Program (cross-genre)
The Orchard Project is a preeminent artistic development laboratory and accelerator for creators of performance and dramatic stories. It inclusively supports and empowers dramatic storytellers from the United States and around the world. Through the Summer Labs and  year-round programming, the Orchard Project supports artists and companies at different stages of their process, from the earliest drafts through first public workshops. Participating artists are at multiple career stages and are selected through a competitive process.  
2023 PERFORMANCE LAB
"This year's Performance Lab marks the organization's robust and enthusiastic return to a full program of in-person residencies in Saratoga Springs, New York, with our highest volume of performance projects in physical residency since the onset of the pandemic in 2020. With our full physical return to in-person performance programming, we continue our investment in new performance work that favors collaborative models, centers voices that have historically been marginalized or de-canonized, and pushes the aesthetic boundaries of the American theater. These artists represent the diversity of approach and breadth of experimentation that characterize contemporary American theatrical projects, as well as timely thematic inquiries, and we're so excited to experience how their work evolves during their time with us."
– Sam Max, Director of Lab Programs
TIANDING HE,

How I Disappeared:

a multimedia devised object performance project that explores the poetic and personal urban life experiences of Asian new immigrant artists in NYC, with original live music, AR puppetry, and interactive installations.
TELEVIOLET: KATIE BROOK, LIZA BIRKENMEIER, & CLARA LATHAM

,

Betty the Mom

:

Stories and songs of Betty Ford and Susan Ford's mother-daughter relationship are a cipher for fantasies of the break between dependence and violence in this expressionist documentary exploring motherhood.
CHLOE JOHNSTON

,

Grace:

a highly personal exploration of our daily interactions with artificial intelligence, based on my own experience as a voice actor for the well-known game Facade, and an interactive performance that addresses the contradictions of intimacy and alienation that our interactions with AI can breed.
ERIKA JI, BRANDY HOANG COLLIER, & CLARE FUYUKO BIERMAN

,

Yoko's Husband's Killer's Japanese Wife, Gloria

:

Did Yoko Ono really break up The Beatles? Was Gloria Abe Chapman somehow responsible for John Lennon's murder? These are the questions that keep Ruby Okamoto up at night. She needs answers, and she's gonna find them — even if it means summoning Yoko, Gloria, and the rest of Asian America into her insomniatic fever dream.
ETHAN LIPTON & HIS ORCHESTRA,

We Are Your Robots:

 

a harrowing new musical yarn in which Ethan Lipton & his Orchestra explore intelligence, consciousness, brain mapping, violence, memory and robotics in hopes of discovering what human beings want from their machines.
SARAH GANCHER

,

Eugene Onegin: A Bluegrass Musical

:

 

A girl who dreams of writing songs falls for a magnetic but jaded touring musician in this bluegrass adaptation of Pushkin's novel-in-verse and Tchaikovsky's opera, now set in 1940s rural Arkansas.
NATALIE HODGES

,

Uncommon Measure

: How does time shape consciousness and consciousness, time? Do we live in time, or does time live in us? A stage adaptation of Hodges critically acclaimed 2022 book about the overlap between musical tempo and the physics of time, adapted by Hodges and Orchard Project Artistic Director Ari Edelson.
Alongside these performance projects in full workshop residencies, The Orchard Project is honored to host its first cohort of writers-in-residence as part of the Performance Lab in Saratoga Springs. The 2023 Writers-in-Residence include: Queen Esther (Blackbirding), Deepa Purohit (Elyria), and Diana Oh (AKA Zaza) (My Lingerie Play, The Infinite Love Party). Additional writers-in-residence will be announced shortly.
2023 EPISODIC LAB
"In this moment of industry reckoning, the 2023 Episodic Lab celebrates a group of vibrant writers joining together to enrich their work. The themes and ideas of this cohort's scripts are vast, but what unites them all is a singularity of voice and clarity of vision in their work. This year, we at The Orchard Project have adjusted the Episodic Lab in order to be in full support and compliance with the ongoing WGA Strike, shifting our focus more robustly to writer support, without the presence of industry guests."
– Maija Gustin and Jennifer Chambers, Episodic Lab Program Directors

MARY PAT BENTEL

,

The Cockroach:

After a body altering accident, a perfectionist must find a way forward in her new reality with the help of her friends and family, all of whom are forever changed.
LESLEY FERA

,

Inconceivable:

After a soul-crushing miscarriage, a Midwest grade school teacher embraces motherhood in another, bloodier fashion, and stumbles upon her true calling  —  saving children from the mofos who prey on them.

 
ALEXANDRIA LANE

,

Roe v. Maeve:

Maeve, the medical director at one of the last abortion clinics in New Mexico, struggles to keep its doors open from political attacks while fighting personal battles with her evangelical rockstar family at home.
ALYS MURRAY

,

 

Fat Chance

: A teen girl attempts to navigate high school at an inpatient weight loss facility.
ELIANA PIPES,

The Young Lords:

In 1969 Harlem, a band of young Black and Puerto Rican activists created the Young Lords Party — a revolutionary organization known for media savvy and creative protests with a flair for drama. Against all odds, they took daring political action and made change for their community. Then they fell apart.
REID POPE,

 

Old Queens

: A half-hour mockumentary sitcom that follows a group of rowdy 70-year-olds at the Queens Center For Queer Seniors & their 27-year-old program director, Kara, who's desperately trying to help them make the most of their final years.
MICHAEL WELLS JR.

,

Children of the South:

A teenage girl is moved to a small South Carolina town to live under the care of her aunt. As she uncovers her family's legacy as root doctors with supernatural abilities, she finds herself the target of the dark magical machinations of some of the town's most powerful residents.
MAISHA YEARWOOD

,

9 Grams

: Tells

the true story of Ayeesha Freeman's incarceration in Istanbul, where she was met with a solitary confinement sentence due to who she loves and how she looks.
2023 AUDIO LAB
"Experiences of intimacy — in platonic, romantic, collaborative, and erotic senses —  unite the Audio Lab's projects this year, emphasizing the power of tenderness, touch, and interpersonal vulnerability in a post-pandemic social context. Iterations on autofiction, confessional, and hybrid narrative-documentary storytelling styles also guide the program's selection."
– Sam Max, Director of Lab Programs
EMILY MKRTICHIAN & KAMEE ABRAHAMIAN,

Taking up arms: Stories of women-led resistance from around the world

: In the aftermath of a devastating war, two women facing the loss of their homeland ask themselves: When is it right to take up arms? To unravel this complex question, they explore the legacies of other women who have turned to militant resistance to protect their homes, communities, and freedoms.
KATHERINE CRAFT,

NSFW:

After a retired porn performer's mother has a stroke, he goes back into adult films to pay the bills, upending the stable life he's built as a husband and father.
SEAN DUNNINGTON,

Here Lies Truth

: a Hawai'i play-cast that intermixes authentic stories from Hawai'i's dynamic community with micro-radio plays written by local playwrights to explore truth, lies, and whatever's in between.
KENNY FINKLE,

The Hussy Chronicles:

Hussy is a superhero who uses sex as a weapon. Part personal narrative, part historical document, part music theater,

Hussy

 is determined to have no boundaries, no limits.
PETER GRAY,

Gay Sex Sounds:

A successful gay video game creator coaches his former schoolyard bully, now a struggling voice over artist, through the process of recording the noises for a gay sex game in development. As their dark role play progresses, both men engage in a psychologically twisted, darkly comic, and deviously sexy examination of queer intimacy.
MILDRED INEZ LEWIS,

Phylicia's Friendship Bench:

Recently widowed Phylicia Banks escapes a life of upper class black ease by taking a Friendship Bench across the United States. Through chance encounters and interviews, she discovers America's hidden hurts and unexpected joys while turning her grief into purpose with candor and humor.
DIANA OH (AKA ZAZA),

 

Depression Box

: a 45-Minute Live Electronic Music and Visual Art Opus that puts Diana Oh's and four Other Artists' Depression on Display.
ADAM SUSSMAN & EVAN ROBERTS,

 

Dissidence:

 In 1995, two long-time AIDS activists became convinced HIV was a hoax, took over the SF chapter of ACT-UP, and turned the organization into a hotbed of misinformation and harassment.

Dissidence

 explores why these activists turned on their beliefs, what happened as their ideas spread around the world, and how a group of dedicated AIDS activists finally found an effective strategy to fight back.
The annual Audio Lab will again be facilitated by Jerry Ruiz.
2023-2024 GREENHOUSE LAB
"These ten artists bring a multitude of artistic practices and lived experiences to the 2023-24 Lab. They are eager for the deep collaboration and cohort-learning that comes from a year-long commitment to gathering and sharing. I am so excited to get to know them individually and collectively and support their journey this year."
– Ramona Rose King, Greenhouse Lab Program Director
JOSE SEBASTIAN ALBERDI

: a playwright and TV writer

CRICKET BROWN

: a writer, director, producer, and performer

RAZ GOLDEN

: a director of theater and film

DIANA LY:

a playwright and screenwriter

CHRISTA RAPAGLIA

: an actor, writer, and comedian

ANDREW SAITO

: a playwright

SMJ

: a playwright, director, educator, and mime

ruth tang

: a writer and deviser

GABRIEL G TORRES

: an interdisciplinary artist

ANIA UPSTILL

: a theatermaker, performer, and clown
The Greenhouse Lab will once again be facilitated by dramaturg Ramona Rose King.
ABOUT THE ORCHARD PROJECT
The Orchard Project is a preeminent artistic development laboratory and accelerator for creators of performance and dramatic stories. Through programs in New York City, Saratoga Springs, and online, the Orchard Project inclusively supports and empowers dramatic storytellers from the United States and around the world. Through summer labs and other year-round programs that provide resources including community, accountability, and opportunity for artists at multiple stages of their careers, The Orchard Project pushes the dramatic form and lifts up a diversity of voices that inform, inspire, and provoke.
To date, OP has supported more than 1,500 resident artists, and maintained deep relationships with alumni, offering ongoing advice and resources for their work through OP Forward programs. Unlike other residency programs, The Orchard Project's signature Labs embrace projects from a diversity of trajectories, forms, and aesthetics, and support both emerging and established artists. Theatrical works developed at The Orchard Project have gone on to production at a wide variety of theaters—from Broadway and the West End to independent theaters across the world. Recent and upcoming productions include Female Troubles (The Goodman Theatre, upcoming), Penelope (Hudson Valley Shakespeare Festival and Signature Theatre, upcoming), A Play for the Living in a Time of Extinction (Baltimore Center Stage, Barbican Theatre, European Tour), Bhangin' It (La Jolla Playhouse), In the Green (LCT3), Manual Cinema's Frankenstein (Public Theater, Court Theatre), Amélie (Broadway), The Object Lesson (BAM Next Wave Festival, New York Theatre Workshop), and Savion Glover's BaRoQUe'BLaK TaP CaFe (The Joyce). Audio stories formed at the Orchard Project have been presented on Audible, including the musical Row by Daniel Goldstein and Dawn Landes. Television pilots like Amy Jephta's The Park – in development with Imagine Entertainment – have been developed in OP's Episodic Lab. Some projects have gone on to live in multiple mediums, such as Laura Wade's POSH and Robert Schenkkan's All The Way, which had successful theatrical runs before becoming major motion pictures. Past Orchard Project residency companies include Tectonic Theater Project, The Royal Court, Elevator Repair Service, Public Theater, Pig Iron, The Rude Mechs, American Repertory Theater, Mabou Mines, and groundbreaking artists Jeremy O. Harris, Young Jean Lee, and Brandon Jacobs Jenkins, among others. Work developed at the Orchard Project has gone on to win awards including Obies, Drama Desks, Olivier Awards, and the 2014 Tony Award for Best Play for All The Way.
The core activities of the Orchard Project are a series of residency and artist support programs that occur in New York City and Saratoga Springs, NY. Programs include laboratories for theatrical plays and musicals, episodic content, audio storytelling, and a world class apprentice program for young artists.