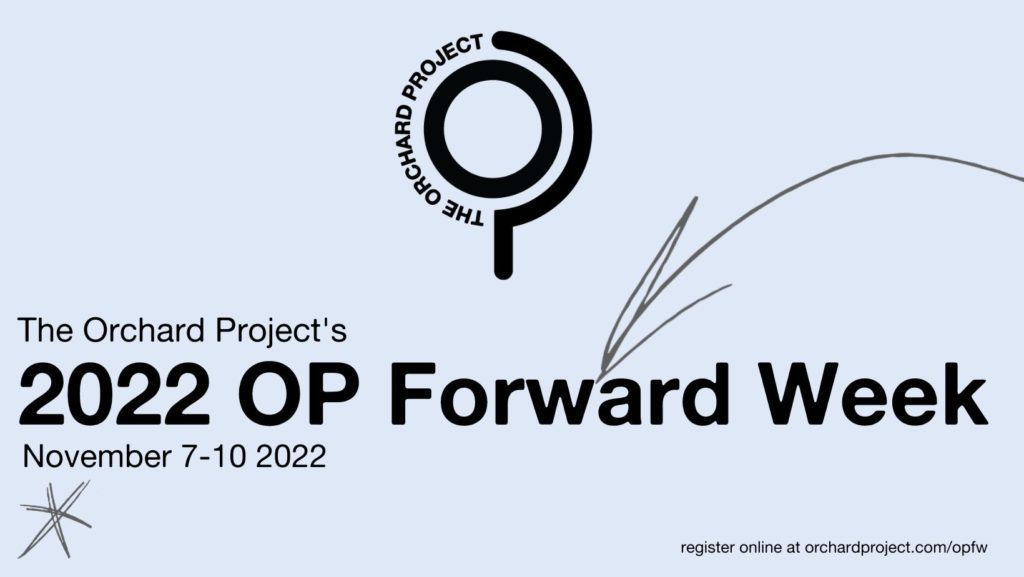 On behalf of The Orchard Project, a premiere new dramatic work accelerator, we are thrilled to WELCOME you to our Orchard Project Forward Industry Week and introduce you to our vibrant, diverse, and talented community of Orchard Project Artists and their innovative projects.
After a packed summer of artistic development and progress in Orchard Project labs, OP Forward is hosting a free virtual event and platform intended to introduce and connect OP lab artists across Theatre, TV, and Audio disciplines with industry professionals in those fields through a series of twenty minute virtual meetings. These meetings are chosen by the industry guest after looking at our online catalogue and scheduled and facilitated by the Orchard Project.
Setting up and signing up is easy:
SET YOURSELF UP FOR MEETINGS: Peruse and bookmark artists of further interest. You can see all of the participating artists and projects HERE, or click to see our specific Performance, Episodic, or Audio projects.
SIGN UP FOR OP FORWARD WEEK: You will then submit your availability for those bookmarked meetings through this link OR you will be prompted on the website after you bookmark potential artists.
Common Questions and Answers
How will meetings take place?
Meetings will occur via video conference such as Zoom and Google Meets. we will handle all the links for meetings to make it easy for you.
Can I add to meetings after I submit my requests?
Sure - just email lana@orchardproject.com and we will help.
Are there specific expectations for these meetings? (e.g. only for sales, etc)
No. We invited members of our extended industries to meet these artists for many reasons, whether they be creating connections, talking about future projects, and more. We will do our best to help set up as many meetings as possible.
I am interested in speaking to the OP about artists/projects for future support - how do I?
The Orchard Project's 2023 lab programs will be announced shortly, with an application process taking place in late fall 2022. However, if you would ever like to speak to us about a particular project or artists that you think might benefit from our support, please feel free to email us at info@orchardproject.com.
Does the Orchard Project partner with producers in any way?
Yes - the Orchard Project partners with producers in multiple forms in many ways, including working with them on specific projects or co-organized programs. One key version of these partnerships are our Residency Partners, which provide industry partners with ground floor involvement in the development process and community of artists at the Orchard Project. More information on Residency Partners is HERE, but you can also email us at info@orchardproject.com for more info.
Need to contact us for any reason?