The Orchard Project, a premiere new dramatic work accelerator, is thrilled to invite you to our Orchard Project Forward Week and introduce you to our vibrant, diverse, and talented community of Orchard Project Artists and their innovative projects.
OP Forward Week has two components: Industry Meetings (info below), and public Artist Q&A's with some of the projects/artists we supported in 2021. If you would like to join the Q&A's, please click here to RSVP for the link. Otherwise, read on!
After a packed summer of artistic development and progress in Orchard Project labs, OP Forward is hosting a free virtual event and platform intended to introduce and connect OP lab artists across Theatre, TV, and Audio disciplines with industry professionals in those fields through a series of twenty minute virtual meetings. These meetings are chosen by you — our industry guests — after looking at our online catalogue, and then scheduled and facilitated by the Orchard Project. To further amplify the understanding of some of our artists, there will be two live streamed Artist Q+A sessions.  
This past year, over 1300 projects applied to the Orchard Project's developmental labs, which in the past have launched plays like All The Way, The Aliens, 33 Variations, and An Octoroon, not to mention the work of many award-winning artists such as Mike Bartlett, Qui Nguyen, Gabrielle Allan & Jen Crittenden, Rachel Chavkin, Jeremy O. Harris, and Young Jean Lee. We could not be more excited about the caliber and promise of these projects and artists, and you can see brief descriptions of their projects HERE.
When:
The Week of December 6-10 2021
How:
We are here to help through every step to ensure the process is as simple, fun and fruitful as possible. Below are the quick and easy steps in order to learn about our artists and register for artist meetings.
RSVP and register for the event and be granted access to browse our catalog of artists. You will make a secure password.

Peruse and bookmark those artists of further interest through our website.

Submit your availability for meetings after you bookmark potential artists.

Join our Q&A's with artists each day (see schedule below).

You will be meeting artists virtually based on your provided availity and artist interest during the week of December 6-10th 2021.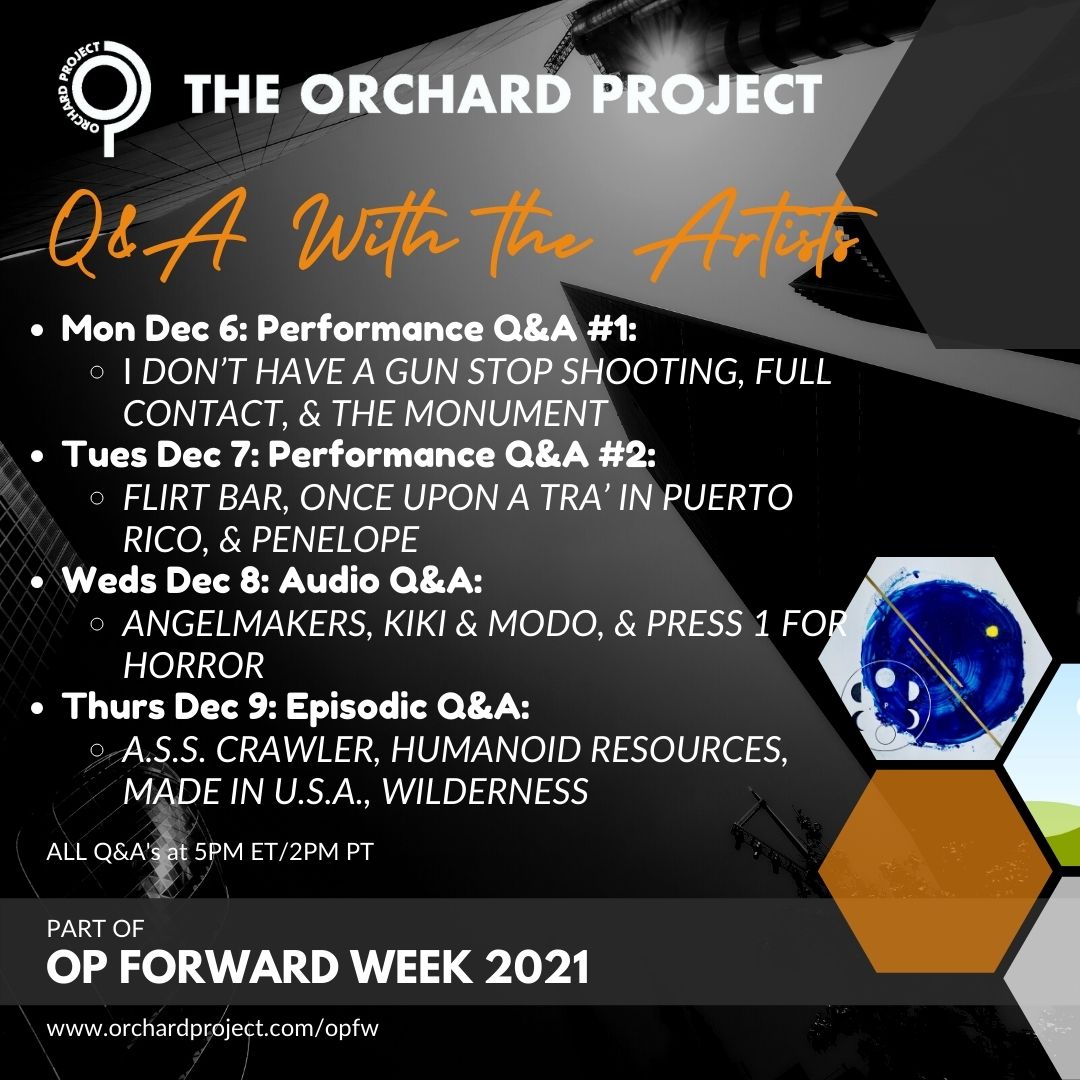 Additionally, we welcome other members of your team if you would like them to join as well or if you are unable to attend. We've left additional information about the Orchard Project and its extensive reach and impact as well as our future focused OP Forward programming to further support our artists below for further reference. If you have questions or issues with any part of the sign up process or simply want the Orchard Project to do the work for you, we are happy to help support, guide and facilitate.  Please reach out to lana@orchardproject.com.
When
December 6th, 2021 9:00 AM to December 10th, 2021 9:00 PM